2023 College Football Power Ratings: Fans Be Outraged!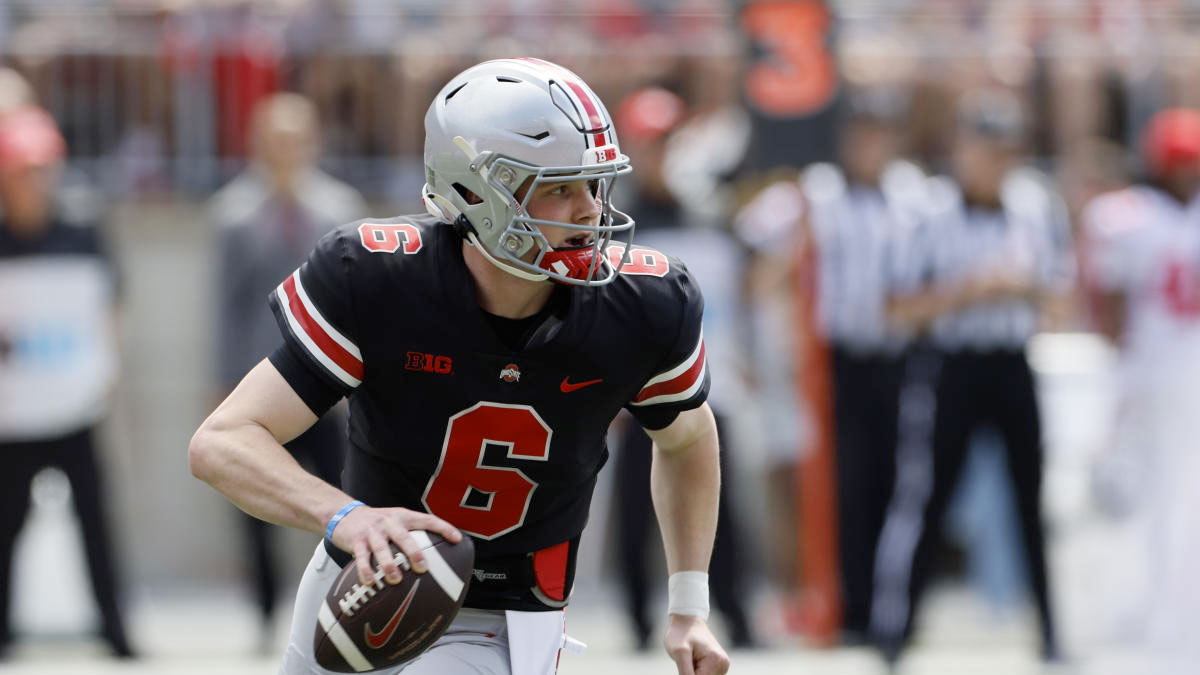 The start of the 2023-24 college football season is just 11 days away and each Monday throughout the season, we'll release our power rankings.
Before you dive into them, let me warn you. You're going to disagree with them.
Hell, I disagree with them and I helped come up with the formula that sorted them all out. I can already hear Georgia fans screaming about not being #1.
Tennessee fans will be mad that the 'other' UT is a spot ahead of them.
Kentucky fans will be upset with the fact that Tennessee is 6th, and Alabama fans– well, they're not used to being anything other than preseason numero uno.
2023 NCAAF Power Ratings
The model isn't perfect, and wasn't designed to be and I haven't listed each team's home field advantage to avoid more clutter.
Suffice it to say that it is roughly 2 points for the majority of teams.
If you've never used a power rating, you can figure out where we have a game handicapped by taking any two teams and subtracting their power ratings.
(Ex: Georgia 51.82 – Tennessee 45.38 = Georgia -6.44 on a neutral field)
Opening Power Ratings
| | | |
| --- | --- | --- |
| 1 | Ohio St | 52.71 |
| 2 | Georgia | 51.82 |
| 3 | Alabama | 51.65 |
| 4 | Michigan | 47.62 |
| 5 | Texas | 45.74 |
| 6 | Tennessee | 45.38 |
| 7 | Penn St | 45.09 |
| 8 | LSU | 44.44 |
| 9 | Clemson | 44.12 |
| 10 | Utah | 43.54 |
| 11 | Oklahoma | 42.72 |
| 12 | Notre Dame | 42.46 |
| 13 | USC | 42.40 |
| 14 | TCU | 42.05 |
| 15 | Oregon | 41.96 |
| 16 | Kansas St | 41.90 |
| 17 | Florida St | 40.80 |
| 18 | Mississippi | 40.60 |
| 19 | Baylor | 40.09 |
| 20 | Washington | 39.97 |
| 21 | Florida | 39.82 |
| 22 | Wisconsin | 39.78 |
| 23 | Mississippi St | 39.45 |
| 24 | Oregon St | 39.45 |
| 25 | Minnesota | 39.05 |
| 26 | Texas Tech | 38.74 |
| 27 | Iowa | 38.73 |
| 28 | Kentucky | 38.32 |
| 29 | Texas A&M | 38.23 |
| 30 | Iowa St | 38.23 |
| 31 | Oklahoma St | 38.08 |
| 32 | Arkansas | 37.82 |
| 33 | Illinois | 37.36 |
| 34 | Louisville | 37.32 |
| 35 | Auburn | 37.19 |
| 36 | UCLA | 37.10 |
| 37 | Pittsburgh | 37.06 |
| 38 | UCF | 37.03 |
| 39 | Cincinnati | 36.40 |
| 40 | NC ST | 36.40 |
| 41 | Maryland | 36.22 |
| 42 | Michigan St | 36.16 |
| 43 | UNC | 36.13 |
| 44 | Wake Forest | 36.07 |
| 45 | South Carolina | 35.81 |
| 46 | Purdue | 35.78 |
| 47 | Tulane | 35.24 |
| 48 | Missouri | 35.20 |
| 49 | West VA | 34.92 |
| 50 | Syracuse | 34.66 |
| 51 | Washington St | 34.64 |
| 52 | SMU | 33.85 |
| 53 | Boise St | 33.58 |
| 54 | Houston | 33.45 |
| 55 | Nebraska | 33.34 |
| 56 | Miami FL | 33.28 |
| 57 | Memphis | 33.18 |
| 58 | California | 33.05 |
| 59 | Duke | 33.03 |
| 60 | BYU | 33.01 |
| 61 | Kansas | 32.83 |
| 62 | Arizona St | 31.80 |
| 63 | Air Force | 31.63 |
| 64 | Fresno St | 31.59 |
| 65 | UT San Antonio | 31.41 |
| 66 | Arizona | 31.03 |
| 67 | Appalachian St | 30.88 |
| 68 | East Carolina | 30.79 |
| 69 | Troy | 30.62 |
| 70 | Marshall | 30.49 |
| 71 | Indiana | 30.40 |
| 72 | James Madison | 30.36 |
| 73 | WKU | 30.14 |
| 74 | Stanford | 29.88 |
| 75 | Louisiana | 29.87 |
| 76 | Northwestern | 29.53 |
| 77 | UAB | 29.35 |
| 78 | Va Tech | 29.21 |
| 79 | Georgia Tech | 29.09 |
| 80 | South Alabama | 28.56 |
| 81 | Toledo | 28.29 |
| 82 | Vanderbilt | 28.20 |
| 83 | Tulsa | 28.11 |
| 84 | Navy | 27.94 |
| 85 | Army | 27.93 |
| 86 | Coastal Car | 27.84 |
| 87 | Rutgers | 27.83 |
| 88 | San Diego St | 27.73 |
| 89 | FAU | 27.49 |
| 90 | Boston College | 27.46 |
| 91 | Liberty | 27.21 |
| 92 | Georgia St | 27.07 |
| 93 | Ohio | 26.83 |
| 94 | Ga Southern | 26.75 |
| 95 | North Texas | 26.74 |
| 96 | Virginia | 26.55 |
| 97 | San Jose St | 26.31 |
| 98 | Wyoming | 25.98 |
| 99 | Southern Miss | 25.53 |
| 100 | Buffalo | 25.36 |
| 101 | Miami OH | 24.88 |
| 102 | Kent | 24.48 |
| 103 | E Michigan | 24.43 |
| 104 | Utah St | 24.38 |
| 105 | C Michigan | 24.18 |
| 106 | MTSU | 24.10 |
| 107 | W Michigan | 23.75 |
| 108 | Ball St | 23.64 |
| 109 | UNLV | 23.61 |
| 110 | Colorado | 23.58 |
| 111 | USF | 23.47 |
| 112 | Old Dominion | 23.25 |
| 113 | Arkansas St | 23.06 |
| 114 | Temple | 22.85 |
| 115 | N Illinois | 22.73 |
| 116 | Nevada | 22.23 |
| 117 | La Tech | 22.10 |
| 118 | Rice | 22.02 |
| 119 | Colorado St | 21.50 |
| 120 | Jacksonville St | 21.43 |
| 121 | UTEP | 21.24 |
| 122 | Texas St | 21.00 |
| 123 | UCONN | 20.48 |
| 124 | ULM | 20.48 |
| 125 | Hawaii | 20.40 |
| 126 | Bowling Green | 19.65 |
| 127 | Sam Houston St | 19.54 |
| 128 | Charlotte | 19.33 |
| 129 | New Mexico St | 18.49 |
| 130 | Akron | 17.27 |
| 131 | New Mexico | 16.93 |
| 132 | FIU | 12.03 |
| 133 | Massachusetts | 11.80 |