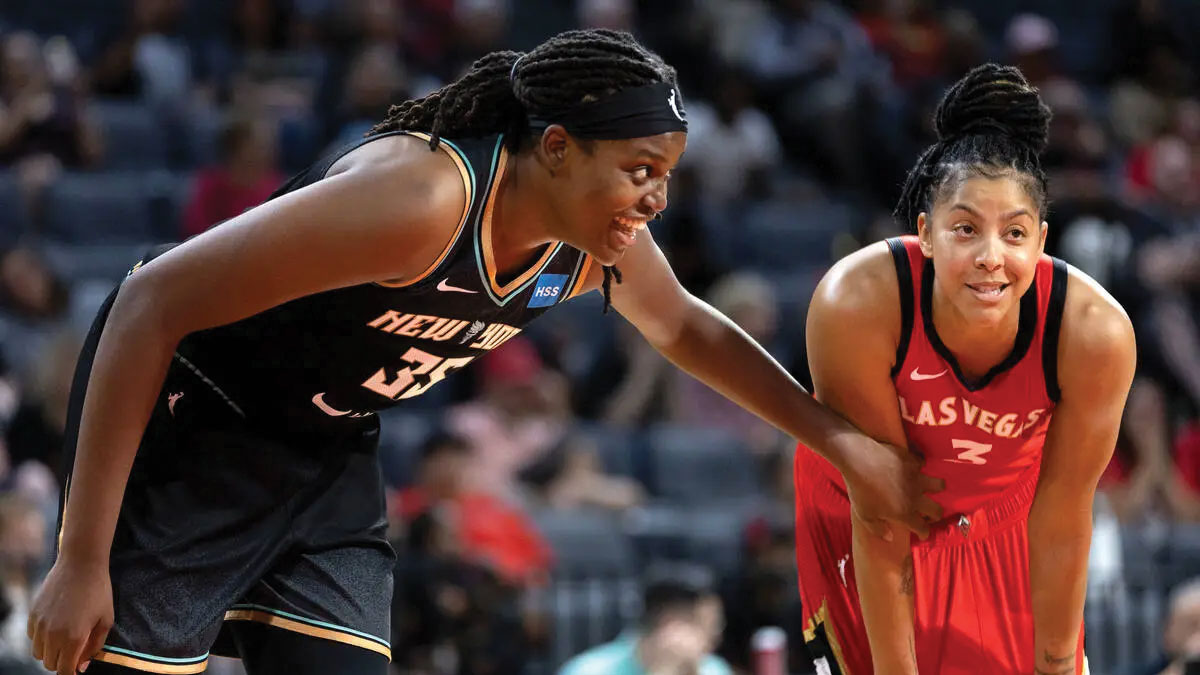 The 2023 WNBA Season is finally here! Even though I won't be tuning to watch many games, as a sports bettor I am ready!
The WNBA is my favorite league to bet. Mostly because it's the a league I consistently do well in. As a totals and sides bettor, I need to hit 52.4% to break even. Last season in the WNBA I hit nearly 59%.
All season long I will be posting my bets at Moneyline Report and @jeremyculture on Twitter.
2023 WNBA Championship Odds
This year is shaping up to be a two-team fight to finish between the Las Vegas Aces and New York Liberty, but there's a third team that I think will surprise some.
| Team | Championship Odds (Yes/No) | Power Rating |
| --- | --- | --- |
| Las Vegas Aces | +110 / -140 | +4.6 |
| New York Liberty | +115 / -145 | +4.1 |
| Connecticut Sun | +4200 / -6900 | +3.4 |
| Washington Mystics | +1500 / -3650 | +1.5 |
| Phoenix Mercury | +2100 / -3650 | +0.2 |
| Minnesota Lynx | +4800 / -7700 | -0.2 |
| Los Angeles Sparks | +4800 / -7700 | -0.9 |
| Atlanta Dream | +8000 / -14000 | -1.4 |
| Seattle Storm | +15000 / -999999 | -2.2 |
| Chicago Sky | +4800 / -7700 | -2.3 |
| Dallas Wings | +8000 / -14000 | -2.6 |
| Indiana Fever | +9000 / -16500 | -7.7 |
The championship odds are from Circa Sports, the best sportsbook in Las Vegas and personal favorite spot to hang out.
Key Injuries & Absences
There's a bunch of great players who are going into the 2023 season hurt or away from their teams.
Chicago is without Isabelle Harrison for the first two games. Ruthy Hebard is returning from maternity leave after giving birth in April. It's unclear when she'll be back to playing, she's currently doing conditioning drills with the team. Li Yueru will be out multiple weeks.
Jasmine Thomas is out for Los Angeles with no timetable to return.
Skylar Diggins-Smith is on maternity leave for Phoenix and won't be back until later this season. Shey Peddy is coming back from an Achilles injury and it's unclear when she'll be back.
Marine Johannès is overseas and won't be playing for New York until after her season in France is completed.
Myisha Hines-Allen is unlikely to be available to start the season with Washington, but should be back soon.
Natalie Achonwa is on maternity leave for Minnesota and likely will miss the entire season.
The Dream will be without Iliana Rupert due to overseas commitments.
Lou Lopez Sénéchal doesn't have a timetable for her return with the Dallas Wings.
2023 WNBA Futures Picks
I teased a third team that I think is undervalued by the betting markets. My power ratings have Connecticut Sun third overall. Currently, Circa is giving 42/1 odds, which feels really high.
Connecticut have been a powerhouse the last couple of seasons, but head coach Curt Miller left for the Sparks job in LA, and they lost Jonquel Jones, Courtney Williams, and Jasmine Thomas.
If Connecticut's new coach can keep the pace and quality up, Connecticut are severely underpriced. That's a big if.
The reason I like 42/1 is you can buy out of the bet with a playoff series or something similar to add chips to your stack.
At the end of the season, I do not expect the Sun to compete for a title, but a couple of injuries, a little lightning in a bottle, and the Sun have a viable path to being a top 4 team.
Follow Me This WNBA Season
Over on Twitter @jeremyculture, I'm tweeting all about the WNBA season. I'm posting my model's numbers, my bets, and lots more.
Best of luck to you this WNBA Season!